In this new article series, Xavier Lepercq, SP80 co-founder and technical manager, shares his thoughts on boat design, speed sailing, and the World speed record. Reaching 80 knots on the water with the wind as sole source of power is an incredible technical challenge. His pursuit to break the world speed record has led him to question architectural codes that are currently the standard within the sailing world.
From concept to mature technology, the development of foils and foiling boats spans 139 years. The French engineer Emmanuel Denis Farcot was the first, in 1869, to imagine boats able to lift off the water. The first successful foiling boat however was not realized until 2008. The Hydroptère broke the World sailing speed record along with the mythical 100km/h barrier. This achievement opened the development floodgates. The 2013 America's Cup put foiling boats in regattas on the world stage, and the 2017 edition led to the maturity of the technology.  The 2021 Cup will enable the experimentation of a novel foil configuration however this will not provide a significant speed advantage over its predecessor, the AC50. 
The limits of foiling technology have been clearly identified: exceeding 50 knots (93 km/h) is difficult, however reaching 55 knots (102 km/h) is near impossible due to the onset of cavitation. It has taken nearly 150 years for foiling technology to reach its full potential, largely due to the spike in innovation that has occurred over the last 20 years.

From left to right: the Hydroptère (©Hydroptère), which beat the world sailing speed record in 2009 / Emirates Team New Zealand's AC50 (©Emirates Team New Zealand), Challenger of the 35th America's Cup / American Magic's AC75 (©American Magic), Challenger of the 36th America's Cup
When it comes to records, where speed is the ultimate goal, foils will be inadequate
Does this mean the end of foils? Surely not! The diversity of classes in sailing is phenomenal and lends beauty to the sport. In the same way that flying boats will never replace Archimedean boats, they cannot be substituted for by "something else". However, when it comes to the "record", where speed is the ultimate goal, foils will be inadequate.
Tired of hearing the status quo "foils = innovation", in spite of their technical limitations, we have created SP80 with the purpose of shattering established codes of boat design and forging new routes. You've guessed it, there will be no foils on board our boat, we will truly be using "something else"!
WE CREATED SP80 WITH THE PURPOSE OF SHATTERING ESTABLISHED CODES of BOAT DESIGN
But let's not get ahead of ourselves; first, some mathematics that allow us to understand how foils came to be synonymous with speed. By definition:
So to go faster, there are two solutions:
1 – Reduce the drag
There are a multitude of possibilities to reduce the drag of a boat, but the most efficient remains the use of foils. By lifting the hull above the waterline, foils reduce the surface area in contact with the water which in turn reduces drag. However, foils inevitably experience cavitation around 55 knots. Bubbles generated by cavitation produce instability and large amounts of drag, limiting boat speed. The foil is therefore a dead end if your goal is to go very fast.
Cavitation bubble on a foil – Experimental study realized by EPFL for the Hydroptère ©Article: L'Hydroptère: How multidisciplinary scientific research may help break the sailing speed record.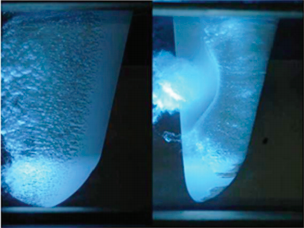 2 – Increase the power
The architects have done it before: they invented the catamaran, the trimaran, the ballast, the tilting keel, etc., in order to increase the uprighting moment of boats, as well as their driving force. But in the end, increasing the power has always translated to building larger, longer, and heavier boats that generate more drag. Mindlessly increasing the power is a poor strategy, seeing as the fastest boats are not the biggest.
A foiling moth (left – ©Martina Orsini) is much faster than a Class J (right – ©Carlo Barenghi), though the latter is much more powerful
The World sailing speed record offers incumbents considerable potential for innovation: there are very few rules. Nearly everything is permitted, engineers and architects can let their minds roam free. Today, I believe that the speed of boats is not limited by the physics of our world but rather by our own imagination! With SP80, we took advantage of the absence of barriers. We brainstormed for two years and thousands of hours to get to a concept we believe in. Thereafter it took another year to refine our design.
TODAY, THE SPEED OF BOATS IS LIMITED NOT BY THE PHYSICS OF OUR WORLD BUT RATHER BY OUR OWN IMAGINATION!
After taking the time to test many ideas, we developed a concept that enabled us to increase the power without sacrificing or compromising stability, and maintaining a relatively small boat size. Our weight/ power ratio resembles that of racing motor speedboats. After all, they attain speeds well above 80 knots without having to fly!
NO, WE WILL NOT FLY, WE WILL STAY IN CONTACT WITH THE WATER, AKIN TO A FORMULA 1 ON A BEND!
Xavier Lepercq, co-founder & technical manager
Photo in header: ©Maxime Horlaville / Apivia
Dans la tête de Xavier #1 | Et si faire voler les bateaux était une fausse piste? 
18 Novembre 2020
Dans cette série d'articles, Xavier Lepercq, co-fondateur de SP80 et responsable technique, nous fait part de ses réflexions sur la conception des bateaux, la vitesse à la voile et le record du monde absolu de vitesse. Atteindre 80 noeuds (150km/h) sur l'eau propulsé uniquement par le vent est un incroyable défi technique et concevoir SP80 lui a permis de se questionner sur les codes architecturaux actuellement établis dans le monde de la voile.
Le développement du foil et des bateaux volants dans le monde de la voile est assez surprenant. L'ingénieur français Emmanuel Denis Farcot est le premier, en 1869, à imaginer faire décoller les bateaux au-dessus de l'eau. Pourtant, il faut attendre 139 ans pour noter le premier réel succès d'un bateau à foil: en 2008, l'Hydroptère améliore le record du monde de vitesse à la voile et passe la barre mythique des 100 km/h. Puis tout s'enchaîne très vite: la Coupe de l'America de 2013 fait découvrir au monde entier le spectacle des bateaux à foils sur un parcours de régate, tandis que celle de 2017 permet de porter la technologie à maturité. La Coupe de 2021, quant à elle, aura permis d'expérimenter une implémentation nouvelle des foils, sans pour autant pouvoir surpasser les performances de ses prédécesseurs, les AC50.
La technologie semble donc avoir bien mûri et les limites des foils sont maintenant clairement identifiées: franchir les 50 noeuds (93 km/h) n'est que très occasionnel tandis qu'effleurer les 55 noeuds (102 km/h) est mission impossible du fait de l'apparition de la cavitation. Il aura donc fallu près de 150 ans pour permettre aux bateaux à foils d'atteindre leur plein potentiel, grâce notamment au pic de développement constaté ces 20 dernières années.


De gauche à droite: l'Hydroptère (©Hydroptère), qui a battu le record du monde de vitesse à la voile en 2009 / l'AC50 d'Emirates Team New Zealand (©Emirates Team New Zealand), Challenger de la 35e Coupe de l'Amercia / l'AC75 d'Amercian Magic (©American Magic), Challenger de la 36e Coupe de l'America
Quand on parle de « records », où par définition la vitesse prime sur tout le reste, le foil n'aura plus sa place.
Alors l'utilisation des foils s'arrêtent là? Bien sûr que non! La diversité dans le monde de la voile est phénoménale et c'est ce qui fait la beauté de ce sport. De même sorte que les bateaux volants ne pourront pas remplacer tous les bateaux archimédiens, ils ne pourront pas être intégralement remplacés par "autre chose". Cependant, dès qu'on parle de « records », où la vitesse prime par définition sur tout le reste, le foil n'aura plus sa place.
Un peu lassés d'entendre "foils = innovation" alors que ceux-ci sont voués à stagner, nous avons créé SP80 dans le but de briser les codes du monde de la voile et d'ouvrir de nouvelles possibilités. Vous l'aurez deviné, pas de foils à bord de notre bateau mais véritablement "autre chose" !
Nous avons créé SP80 pour briser les codes du monde de la voile
Mais d'abord un peu de mathématiques pour comprendre comment le foil s'est imposé naturellement. Par définition : 
Vitesse = Puissance / Traînée
Donc pour aller plus vite, il y a deux solutions :
1 – Réduire la trainée
Il existe une multitude de possibilités pour réduire la traînée d'un bateau mais la plus efficace reste l'utilisation des foils. En effet, en surélevant la coque, les foils permettent de réduire la surface en contact avec l'eau et donc la traînée. Cependant les foils se heurtent inévitablement au phénomène de la cavitation autour de 55 nœuds. Les bulles de vapeur générées par la cavitation engendrent une traînée considérable et limitante. Le foil est donc une fausse piste quand il s'agit d'aller vite, très vite.

Bulle de cavitation sur un foil – Etude expérimentale réalisée par l'EPFL pour l'Hydroptère ©Article: L'Hydroptère: How multidisciplinary scientific research may help break the sailing speed record.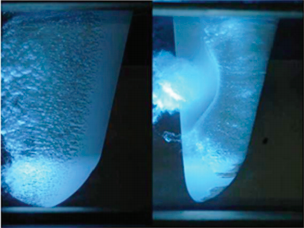 2 – Augmenter la puissance
Les architectes l'ont fait par le passé : ils ont inventé le catamaran, le trimaran, le ballast, la quille pendulaire, etc., afin d'augmenter le couple de redressement des bateaux et ainsi leur force motrice. Mais finalement, l'augmentation de la puissance s'est toujours traduite par la construction de bateaux plus larges, plus longs, plus lourds et générant donc beaucoup de traînée. Augmenter la puissance aveuglément semble être une solution vouée à l'échec, étant donné que les bateaux les plus rapides ne sont pas les plus grands.
Un moth à foils (à gauche – ©Martina Orsini) est plus rapide d'un Class J  (à droite – ©Carlo Barenghi), pourtant beaucoup plus puissant
Le record du monde de vitesse à la voile a un avantage considérable: il est régi par très peu de règles. Presque tout y est permis, les ingénieurs et architectes peuvent donc donner libre cours à leur imagination. Aujourd'hui, je pense que ce qui limite la vitesse des bateaux, ce n'est pas la physique mais l'imagination de l'Homme !
Avec SP80, nous avons bien profité de cette liberté, cette absence de jauge. Nous avons brainstormé pendant deux ans et des milliers d'heures avant d'arriver à un concept auquel on croit. Il a ensuite fallu une année supplémentaire pour que le design s'affine. Il ne faut pas être pressé et prendre le temps de faire germer les différentes idées, les confronter pour ne garder que les meilleures.
Aujourd'hui, ce qui limite la vitesse des bateaux, ce n'est pas la physique mais l'imagination de l'Homme !
Nous avons ainsi développé un concept qui permet d'augmenter la puissance sans jamais sacrifier ou faire de compromis sur la stabilité tout en gardant un bateau de taille très modeste. Notre rapport poids / puissance se rapproche de celui des bateaux à moteurs de course. Après tout, ils fusent à bien plus de 80 nœuds et n'ont pas besoin de voler pour y arriver !
Non, nous ne volerons pas, nous resterons au contact de l'eau, à l'instar d'une Formule 1 en plein virage !
Xavier Lepercq, co-fondateur & responsable technique
Photo en-tête: ©Maxime Horlaville / Apivia

Subscribe to SP80's newsletter
Copyright 2021 | SP80 | All Rights Reserved