In October 2019, the SP80 project was revealed to the public at the Théâtre du Passage in Neuchâtel at the occasion of the P&TS company's 20th anniversary. Today, the partnership has been tried and verified over the course of multiple interactions between the two entities. Let's take a look back at the crucial involvement of P&TS throughout the SP80 challenge.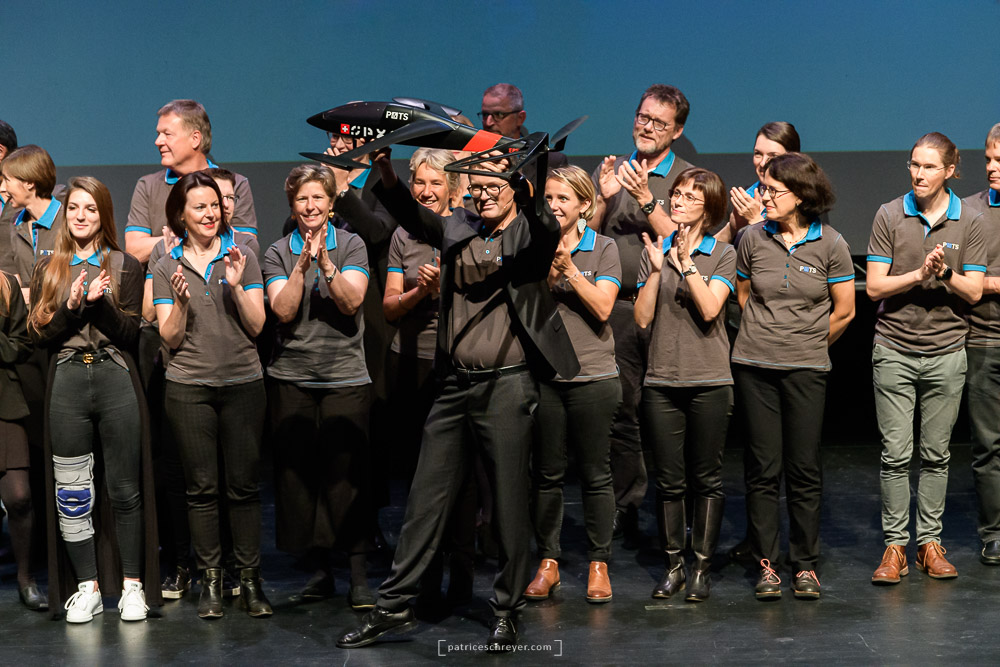 P&TS team and Christophe Saam, P&TS founder at the company's 20th anniversary – © Patrice Schreyer
They were the very first to believe in the project and to commit themselves to making SP80 a reality. P&TS, a Swiss-based intellectual property consulting firm founded in 1998 by Christophe Saam, immediately identified the development potential of SP80. Breaking the World Sailing Speed Record involves many intellectual property considerations, sponsorship contract negotiations, technology and design protection and development agreements with industrial and academic partners. "After having supported the Solar Impulse project in similar approaches, it was natural for P&TS to become the first main partner of this challenge and thus contribute to moving it from the initial sketch to the design that will break the World Sailing Speed Record." says Christophe Saam. "We had no doubts as to the adequacy of the technological choices the SP80 team embraced. But to win, a solid concept and the strongest team are not enough; we help the inventors to realise their most ambitious projects by building a clear legal framework allowing them to negotiate partnership contracts on solid bases, while enhancing the value of the intangible capital created by the company".
At SP80 we also realise how valuable and fortunate it is to have such a partner by our side. Mayeul van den Broek, project manager and co-founder, explains: "We are all trained engineers with varied understandings of law and intellectual property. Having the support of P&TS in these domains allows us to forge ahead with the development of the boat in total confidence, certain that our work is in good hands. They were the first to believe in us and to take the risk of supporting the project's development while we were only taking our first steps. Without them, we wouldn't have gotten this far, without a doubt!".
In 2020, this beautiful collaboration between SP80 and P&TS was fulfilled by the negotiation of sponsorship contracts, by multiple legal aids, and by the filing of a trademark and a patent application protecting the mechanical actuation system connecting the kite and main foil of the SP80 boat. Months of work were needed to imagine and finalise this innovative system which will guarantee the boat's stability at high speed. Pursuing a record of this magnitude requires radically new techniques and the submission of this patent application is undeniable proof of the team's innovative ideas.
The road to the record in 2022 is still long but it is reassuring for the team to know that P&TS continues to provide the legal support that is essential to the success of the challenge.
Aurore Kerr, communication manager
Picture in header: © Patrice Schreyer
Déjà plus d'un an de partenariat avec P&TS ! Bilan sur une collaboration indispensable pour SP80
11 Janvier 2021
En octobre 2019, le projet SP80 était révélé au grand public à l'occasion des 20 ans du cabinet P&TS au Théâtre du Passage à Neuchâtel. Aujourd'hui, le partenariat s'est renforcé au fil des interactions entre les deux entités. Retour sur l'implication déterminante de P&TS tout au long de l'aventure SP80.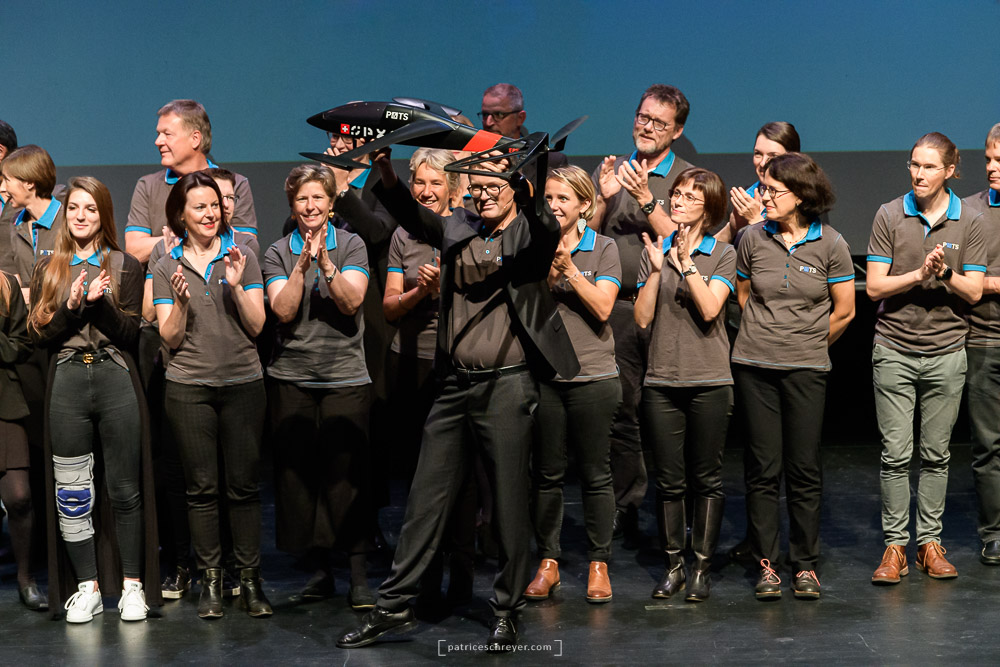 L'équipe de P&TS et Christophe Saam, fondateur de P&TS au 20ème anniversaire de l'entreprise – © Patrice Schreyer
Ils ont été les premiers à croire au projet et à s'engager pour que SP80 voit le jour. P&TS, cabinet de conseil en propriété intellectuelle basé en Suisse, fondé en 1998 par Christophe Saam, a tout de suite cerné le potentiel de développement chez SP80. Battre le record du monde de vitesse à la voile implique de nombreuses considérations de propriété intellectuelle, négociations de contrats de sponsoring, protection de la technologie et du design et accords de développement avec les partenaires industriels et académiques. "Après avoir soutenu le projet Solar Impulse dans des démarches similaires, il était naturel pour P&TS de s'engager comme premier partenaire principal de ce défi et de contribuer ainsi à le faire passer du croquis initial au défi qui battra le record du monde de vitesse à la voile", raconte Christophe Saam. «Nous n'avions pas de doute sur la pertinence des choix technologiques adoptés par l'équipe de SP80. Mais pour gagner, une bonne idée et la meilleure équipe ne suffisent pas ; nous aidons les inventeurs à réaliser leurs projets les plus ambitieux en construisant un cadre juridique clair qui permet de négocier des contrats de partenariat sur des bases solides, tout en valorisant le capital immatériel créé par la société »
Chez SP80, on réalise aussi l'importance et la chance d'avoir un tel partenaire à nos côtés. Mayeul van den Broek, responsable du projet et co-fondateur, explique: "Nous sommes tous ingénieurs de formation avec des notions plus ou moins prononcées en droit et en propriété intellectuelle. Bénéficier du soutien de P&TS dans ces domaines nous permet d'avancer sereinement sur le développement du bateau, en sachant que tout sera parfaitement protégé. Ils ont été les premiers à croire en nous et à prendre le risque de nous soutenir dans le développement du projet alors que l'on partait d'une feuille blanche. Sans eux, nous n'en serions pas là aujourd'hui, c'est une certitude!"
En 2020, cette belle collaboration entre SP80 et P&TS s'est notamment concrétisée par la négociation de contrats de sponsoring, par des aides juridiques multiples, et par le dépôt d'une marque et d'une demande de brevet protégeant le système mécanique d'actuation reliant le kite et foil principal du bateau SP80. Il a fallu des mois de travail pour imaginer et finaliser ce système innovant qui garantira toute la stabilité du bateau à haute vitesse. La conquête d'un tel record nécessite des solutions radicalement nouvelles et le dépôt de cette demande de brevet est une preuve incontestable des idées novatrices de l'équipe. 
Le chemin jusqu'au record en 2022 est encore long mais il est rassurant pour l'équipe de savoir que P&TS continue d'apporter son appui juridique essentiel à la réussite du défi.
Aurore Kerr, responsable communication
Photo en en-tête : © Patrice Schreyer

Subscribe to SP80's newsletter
Copyright 2021 | SP80 | All Rights Reserved